The first xlung workshop was a great success!
Last update: Thursday, 22 Jan 2015 at 20:02
The first xlung workshop took place at Unichristus Universitary Center, at Fortaleza, Brazil in September/2014. The event was a great success! In total, 238 participants attended the workshop. Dr Alexandre Marini Isola, from São Paulo and AMIB, was our special guest giving important and brilliant lectures on mechanical ventilation (MV) and highlighting the main topics of the Brazilian Recommendations of Mechanical Ventilation, published in 2014. Moreover, Prof Marcelo Alcantara Holanda demonstrated the application of the theoretical concepts of MV by means of live simulations using the xlung online platform. We were very pleased by the fact that most of the participants manifested that they were very satisfied with this first event. The xlung team now looks forward to organize and to launch the second xlung workshop in 2015.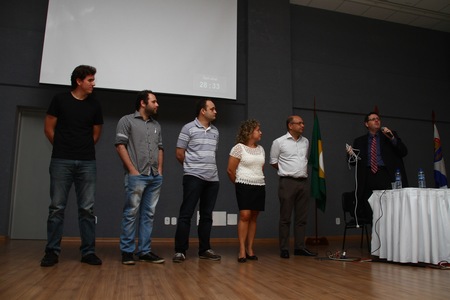 Xlung Team | From left to right: Guilherme Araujo (CNPq xlung scholarship student - Inova talentos Program), Davi Alcantara (Usability Testing Team), Marcelo Diniz (Xlung Simulator/Site Technology Team), Rt. Andréa Carvalho (Xlung Projects Manager) and Dr. Marcelo Alcantara (Founder of xlung company).
Our thanks to the event supporters and sponsors:  
Supporters: Sociedade Cearense de Pneumologia e Tisiologia (SCPT), Sociedade Ceasrense de Terapia Intensiva (SOCETI), Hospital de Messejana e Unichristus. 
Sponsors: Locmed, Carefusion/Intermed, Proel, Dräger and Medlife.