A low tidal volume during a videolaparascopic surgery, what to do?
Last update: Monday, 23 Dec 2019 at 23:19
A 50-year-old patient was admitted to the hospital and submitted to a videolaparascopic surgery for cholecystectomy. Anaesthesia and intubation were performed with no problems. Right after the pneumoperitoneum induction, the low VT alarm of the ventilator was activated. The VT was reduced from 500ml to 300ml.
The patient was on pressure controlled ventilation mode (PCV) with an inspiratory time of 1.0s.
The ventilator curves correspondents to this episode are shown below.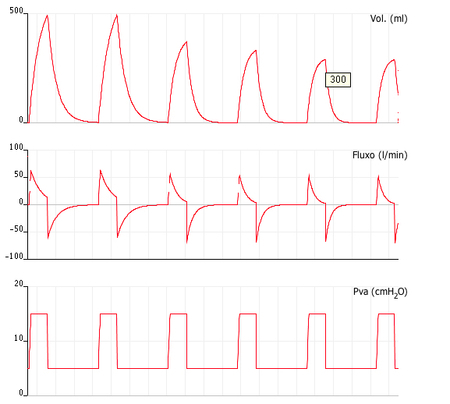 Fonte: www.xlung.net
Which intervention should be done immediately?
a) Switch the ventilatory mode to Volume Controlled (VCV)
b) Raise the applied pressure above PEEP
c) Aspirate the endotracheal tube
d) Increase the inspiratory time
To continue reading...
You must have a valid and active xlung subscription
If you are already a subscriber, please Login at the top of the page, or subscribe now