Unusual inspiratory flow curves on PCV mode. What would it be?
Last update: Wednesday, 18 Dec 2019 at 15:43
A physiotherapist drew attention to the inspiratory flow curve format in A/C - PCV Mode as shown in the image below.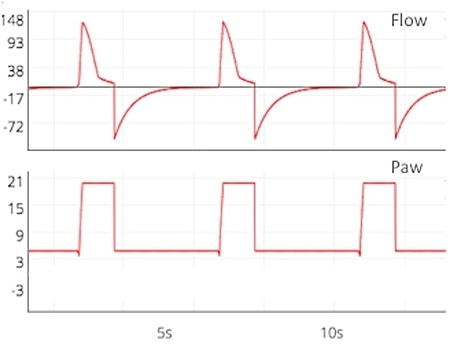 Source: www.xlung.net
This was from a patient with exacerbated COPD in resolution phase from a severe bronchospasm crisis.
What is the most likely explanation for the shape of the inspiratory flow curves?
a) Severe airflow obstruction due pulmonary emphysema
b) Severe airflow obstruction due to bronchospasm
c) Excessive muscular effort at the end of inspiration
d) Muscular effort ending before the end of inspiration
To continue reading...
You must have a valid and active xlung subscription
If you are already a subscriber, please Login at the top of the page, or subscribe now