A Woman with COPD and Patient-Ventilator Asynchrony
Last update: Monday, 09 Dec 2019 at 14:39
A 63-year-old woman with Chronic Obstructive Pulmonary Disease (COPD) was on noninvasive mechanical ventilation (NIV) with an oronasal mask in an ICU ventilator in the pressure support ventilation (PSV) mode. The cycling off criterion was set to 40% of the peak inspiratory flow.
The following ventilator curves were recorded.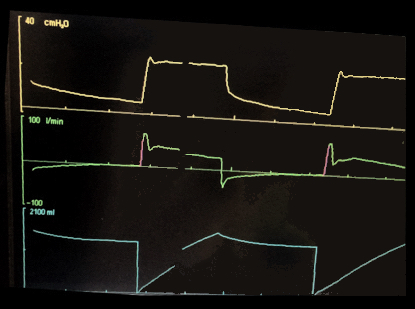 Source: www.xlung.net
1. What type of asynchrony is present?
a) Premature cycling
b) Late cycling
c) Auto-triggering
d) Auto-PEEP
2. How to solve this problem by changing the ventilator settings?
To continue reading...
You must have a valid and active xlung subscription
If you are already a subscriber, please Login at the top of the page, or subscribe now